FAQ
Shipping Method: Unless other arrangements have been made, all orders will be shipped ground freight through UPS or FedEx. If rush delivery is required, Overnight and 2nd Day Air services are available for an additional fee. Because UPS and FedEx cannot ship to post office boxes, please be sure to provide your street address for shipping purposes. Deliveries to Alaska or Hawaii can also be made via the U.S. Postal Service's Parcel Post.
Lowest Possible Shipping Charges: Topform Data saves you money on shipping. Your shipping charges will be equal to the actual UPS or USPS shipping charges – with absolutely no mark-ups or extra fees. Shipping charges are based on the weight of your order and your zip code.
Topform Data stands behind our products with a Satisfaction Guarantee: If you are not satisfied with your order, we will replace it, credit your account or issue a refund.
To ensure proper credit, return authorization must be obtained in advance for all return shipments. Please call our Customer Service Department at 800-854-7470 for assistance. One of our Customer Service Representatives will be able to authorize your return and arrange for pick up.
Topform Data is a full service printer. Our in-house print shop includes printing presses, bindery equipment and graphic design specialists. In addition to imprinting your practice name and contact information on your forms and envelopes, we can also handle all of your printing needs – often more economically than the printer down the street.
Free Estimates: We are happy to provide free estimates for graphic design and/or custom printing. All quotations for artwork and custom printing are valid for 30 days.
Graphic Design Services: Topform has two graphic designers on staff to meet all of your graphic design needs. Our full-service graphic design department can help you design everything from logos and custom forms to direct mail programs, stationary packages and more.
Please be aware that your graphic design order is separate from and in addition to any printing order that you may place. If you request graphic design services you will be billed for the services provided even if the associated printing order is cancelled or delayed.
Artwork Guidelines: If you choose to provide your own artwork for your printing order, you must follow the following artwork guidelines…
All jobs require vector or raster artwork. Vector artwork is always preferred.

Vector artwork is an image created of points and paths. This results in artwork that is editable, scalable and able to be separated for spot color reproduction.
Raster artwork is an image created of many pixels (tiny squares). This results in artwork that is not editable, scalable or able to be separated for spot color reproduction. Raster artwork is only acceptable for photographs and similar style artwork. If raster artwork is the only art available, it must be 300 dpi or higher for the best results. Most raster artwork will have to be redrawn by our art department, and fonts will have to be matched, which may incur an additional fee.

Acceptable Vector file formats:

Illustrator (.ai)
InDesign (.indd)
FreeHand (.fh8)
EPS (.eps)
PDF (.pdf) –fonts must be converted

Acceptable Raster file formats:

BITMAP (.bmp)
JPEG (.jp)
GIF (.gif)
Photoshop (.psd)
TIFF (.tif)
PDF (.pdf)
All Raster files must be 300 dpi or higher for best results. Please keep in mind that some raster artwork may require additional work to be done, which could result in an artwork fee.
Submitting all available file formats is the safest option. If you have a PDF file, please be sure to include it. A PDF—more times than not—is the safest bet!
To avoid additional charges and additional time:

Artwork must be submitted at actual size of finished product.
All fonts must be converted to outlines/paths.
All placed/linked images must be embedded or included separately.
All images must include the required bleed if necessary.
All spot colors should be specifically identified.
Ink Colors: Custom imprinting on our forms and envelopes will be in black ink unless otherwise requested. Many of our custom printed forms also offer a choice of our 12 standard ink colors (see chart below) for the same price. While these are our most popular colors, please keep in mind that custom printing can be done in any PMS color for an additional fee.
Typestyles: Although Topform Data can complete your custom printing order using any typestyle that you prefer, we find that the following typestyles are the most popular choices for dental, orthodontic and medical forms.
Proofs: Proofs will be provided for all complex custom printing orders, either via email, fax or mail. Please be sure to check your proof carefully for verbiage, spacing issues or other concerns. Although the order may start processing with a verbal phone approval, a signed and approved proof must be returned to Topform Data before production will begin.
Print Quantities: In the vast majority of cases, the quantity that you request for your custom printing order will be the quantity delivered. For some products, though, orders will be subject to the printing industry's standard 10% overrun or underrun. This means that the actual quantity printed, shipped and billed may be 10% more or less than the quantity ordered.
Ready-to-Use Logos and Images:
Topform Data has a variety of ready-to-use logos and images that can be used to liven up your forms. In addition, our in-house graphic design department can also custom design something just for you, or enhance and update the logo that you are currently using.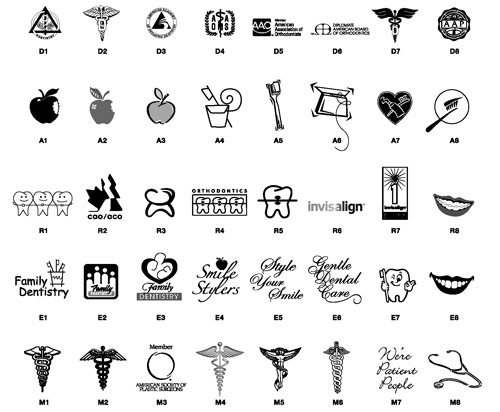 Dental, Orthodontic & Medical Association Logos: Do you belong to the AAO, AOAS, AAP or other professional association? Let your patients know, by including your organization's logo on your practice's forms.
Do you offer a guarantee?
Of course! Topform Data stands behind our products with a Satisfaction Guarantee: If you are not satisfied with your order, we will replace it, credit your account or issue a refund.
Do you charge sales tax?
Only those customers who are located in the states of California, Colorado, New Mexico, and Pennsylvania can and will be charged sales tax.
What are your hours?
We are open Monday through Thursday, from 7:00 am to 5:00 pm Mountain Standard Time. And Friday from 8:00 am to 5:00 pm Mountain Standard Time.
What do I do if I have a question or concern about my order?
Contact our Customer Service Department:
Email salesteam@topformdata.com
Telephone: 1-800-854-7470
What is your mailing address?
Topform Data, Inc.
2700 Girard Blvd NE
Albuquerque, NM 87107